| | |
| --- | --- |
| Estación Terrena UVa | |
---
Miembro de GENSO: Red Global Educativa para Operaciones por Satélite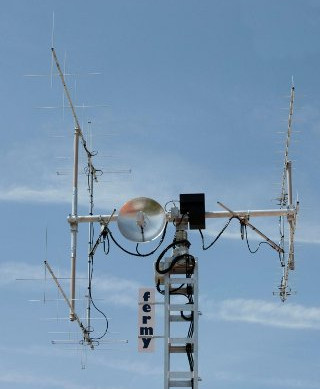 Últimas noticias
¡Una cerveza y algo de técnica! Reuniones semanales en la cafetería de la Escuela de Ingenieros de Telecomunicación: ¡echa una ojeada a Twitter!
2016, 22 de junio, 5:55AM (3:55 GMT). Lanzamiento del PSLV-C34. Damos apoyo al cubosatélite Swayam con la estación terrena.
2015, octubre. En contacto con el personal a cargo del cubosatélite Swayam para colaborar en el próximo lanzamiento.
2015, octubre. Preparándonos para presentar nuestros trabajos en el Congreso Internacional de Astronáutica, IAC 2015. Estaremos en B4. 22nd IAA Simposium sobre Misiones con Mini-Satélites.
Ubicación
La estación terrena está ubicada a 41.6621ºN y -4,7055ºW (WGS84) a una altitud de 710 m (Valladolid, España). El localizador es IN71PP.
Contacto
La estación terrena está coordinada por el Profesor Doctor Ramón de la Rosa Steinz. Escuela de Ingenieros de Telecomunicación. Universidad de Valladolid. España: www.tel.uva.es/~ramros. Indicativo: EA1GTH.
Sitio web de la Estación Terrena UVa: www.gs.tel.uva.es
Historia
(En proceso de traducción).
2015, 7 octubre. 9:00. Conferencia-coloquio en la Semana Mundial del Espacio: Presentación de la Estación Terrena UVa y las Operaciones con Mini-Satélites. Las Telecomunicaciones en el Espacio. Como invitado especial, el ingeniero de telecomunicación Ignacio Clérigo Vecino de la ESA para presentar la misión BepiColombo. Abierto al público.
2015. Software de seguimiento, implementación y pruebas. Trabajando.
2014, noviembre. Probando el servicio de APRS con la Estación Espacial Internacional y ARISS. Verificando el indicativo EA1GTH en el mapa en ariss.net y aprs.fi.
2014, 12 de noviembre. Siguiendo la misión Rosetta en la Escuela de Ingenieros de Telecomunicación. Noticias en TV y entrevista.
2013, November 22nd. Tracking the FUNcube. Enjoy the mission and check our packet count at the FUNcube warehouse! (look for the call sign EA1GTH).
2013, November 21st. Dnepr Cluster Mission 2013: Got the telemetry from the FUNcube cubesat during the first pass over Europe! Check the telemetry and the beacon message received at our ground station! More data at the FUNcube warehouse. The launch was performed with a Dnepr rocket, a converted SS-18 ICBM, at 08:11 (07:11 UTC): see launch video.
2013, November 20th. Waiting for the FUNcube launch: http://funcube.org.uk/
2013, November 20th. Improving the antenna access. Retractable ladder installed. Setting the polycarbonate hatch.
2013, September 9th. Hard disk failure fixed in the GS RAID. Works in progress.
2013, June 17th. Software maintenance: review and new ideas for the next months. In the pipeline: improvement of the antenna access, hatch renewal and stairs installation.
2013, April 8th.Watch live the antenna in operation by selecting Media and pics from the left menu.
2013, February 27th. Tracking the ISRO PSLV-C20/SARAL mission: the first satellite with a smartphone on board!
2013, January 1st. Rack assembled and station ready. Operating hamsats.
2012, October 3rd. Maintenance operations: assembling the new GS rack.
2012, September 13rd. Tracking the NROL-36 cubesat mission.
2012, February 7th. Vega flight VV01 is set to lift off on 13 February with the Spanish Xatcobeo cubesat among others.
2011, October 28th. GS working and giving support to the ELaNa III mission included in the NPP launching: see mission status.
2011, October 6th. Antenna and rotators working fine. Now, setting up the GS computer and wiring the data links.
2011, May 3rd. Antenna installation nearly finished.
2011, March 22nd. Starting the antenna installation.
2011, March 3rd. Platform and antenna tower assembled at the factory.